DTT Ferrite Group.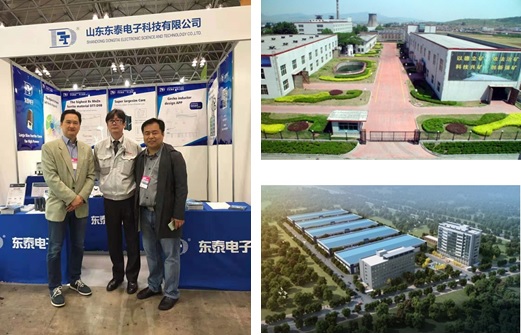 Since our establishment in 2002, we have expanded our business mainly in China. In 2011, we established an application development base in Germany to promote sales in the European region, and in 2018 we started sales in the Japanese market.
【Description of the photo】
Left: At the Techno Frontier venue
Top right: Lingzi Factory (12,000㎡)
Bottom right: Hi-tech zone factory (6,000㎡)
    ☞ Factory dedicated to large ferrite cores
Quality system
Corporate Profile
Corporate Group Name
DTT Ferrite Group.
Date of Establishment
2002y
Group structure
・Shandong Dongtai Electronic Science and Technology Co.,Ltd.
・Shandong DTT-First Electronic Co.,Ltd.
・Bs&T Frankfurt am Main GmbH
・Otequ(HK)Limited.
・Ogasawara Trading (Guangzhou) Inc.


Common Stock
15,500,000RMB
Main Business Activities
Soft Ferrite cores(Mn-Zn and Ni-Zn)
Product capacity
Raw material:4,000t/year
Product:3,000t/year
Production bases
High-Tech Zone,Zibo,Shandong Province,CHINA.